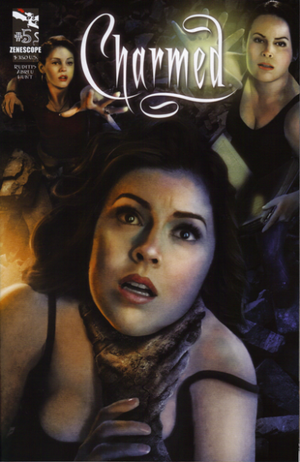 Unnatural Resources
Publication Details
Release Date:
January 17, 2011
Issue #:
5
Series Volume #:
1
Pages:
22
Unnatural Resources is issue #5. It is also the fifth and final story in the first story arc.
Summary
The Charmed Ones face off against an ancient evil with an army of minions that present Piper, Phoebe, and Paige with their greatest challenge ever. These forces of evil are bent on destruction, tearing apart the Halliwell family, and possibly keeping Piper from ever opening her restaurant.
The Story
Warning! Spoilers!
Phoebe and Paige stand behind Piper as she looks through the Book of Shadows. Coop asks how they defeated the Source before. They tell him, and point out it clearly wasn't enough, so they need more. Much to the surprise of her sisters, Piper informs that that they are going to use "the power of all white magic practitioners in the realm." The Source starts throwing fireballs at Magic School and time grows short. As Phoebe, Coop, Paige, and Henry look out the window at the Source, Leo shows Piper a magical bowl, the Phosphorus Cauldron and then explains it to her sisters as well. After collecting the magic from the magical among them, Paige is sent to collect magic from the rest of the magical community, including fairies, leprechauns, and nymphs despite her protests.
Meanwhile,
Neena
is working on a potion while
Hogan
is behind her complaining. He is quickly getting on her nerves. It is now very clear who is in charge and it's not Hogan. Hogan tells her that he wants to be part of the Source's inner circle and she promises him, he's welcome to it. When he tells her he doesn't trust the Source, she agrees with him that he shouldn't, but adds that the Source shouldn't trust them either.
Person, Place, or Thing
Characters
Returning From the TV Series
Objects
Returning From the TV Series
Community content is available under
CC-BY-SA
unless otherwise noted.