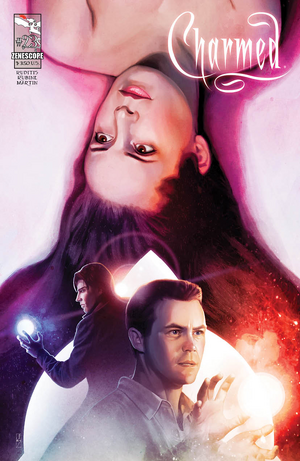 The Darklight Zone
Publication Details
Release Date:
September 2012
Released Price:
$3.50
Digital Release Price:
$3.99
The Darklight Zone is issue 23. It is part of volume 4.
A voice from beyond the grave provides answers from the past as four sisters come together to solve a magical crisis that has affected the entire world. With an army of friends beside them, The Charmed Ones prepare for their biggest battle ever.
The Story
Edit
Person, Place, or Thing
Edit
Locations
Returning from the TV Series
Objects
Returning from the TV Series
Powers
Returning from the TV Series
Paul Ruditis's Teaserpalooza

A flashback in Charmed Issue 23 is a real Thriller #stealthteaserpalooza
In Charmed issue 23 a conversation between sisters may turn to violence!#teaserpalooza
Charmed mini-excerpt: "You need to be punished." (It's 50 Shades of Charmed!) #teaserpalooza
Charmed mini-exceprt: "I've tasked a satellite to the location. We should have an image in a minute." #teaserpalooza
I just realized that (thanks to flashbacks) there are THREE "voices from beyond the grave" in Charmed Issue 23.
Although only one of those voices will excite fans of the show. And, sadly, we only see that person from behind.
And, okay, maybe "excite" is too strong of a word about the cameo.
Clues to the identity of the (not exciting AT ALL) cameo can be found in some of the other teaserpalooza tweets.
Seriously. You're all going to be like "That's it? That's the cameo? That's not exciting!" And I'm going to be all, "I TOLD YOU THAT!"
Here's another clue: In guessing the identity of the cameo you can ignore the tweets about sisterly violence and satellites.
On page 13 there's a picture of a book. The text is actually a basic prayer of the Greek Orthodox Church and reads as follows: «Πάτερ ημών ο εν τοις ουρανοίς, αγιασθήτω το όνομά Σου, 'ελθέτω η Βασιλεία σου, 'γενηθήτω το θέλημά σου 'ως εν ουρανώ και επί της γης. 'Τον άρτον ημών τον επιούσιον δος ημίν σήμερον, 'και άφες ημίν τα οφειλήματα ημών, 'ως και ημείς αφίεμεν τοις οφειλέταις ημών. 'Και μη εισενέγκης ημάς εις πειρασμόν, 'αλλά ρύσαι ημάς από του πονηρού. 'Ότι σου εστίν η βασιλεία και η δύναμις και η δόξα εις τους αιώνας 'Αμήν» 
Community content is available under
CC-BY-SA
unless otherwise noted.