Welcome to the Charmed Comics Wiki
This wikia is dedicated to the Charmed comics produced by Zenescope Entertainment.
We are currently editing 346 articles since July 31, 2011.
Feel free to help if you want. Before you start editing check out the rules.
If you're just here to look around, check out the index for a list of pages on the site. This site has information about the issues and the volumes and everthing within their covers. The Girls are back in town! The Charmed ones return in this brand new fantasy series from Zenescope that picks up where the series left off. Claiming their victory in the battle against evil, Piper, Phoebe, and Paige were free to settle into the future with their husbands and children, destined to live out the happily ever after they had so rightfully earned...or so they thought.
Announcements
Starting March 1st there will be a site wide vote to choose profile pics for the various character pages. (More...)
Annonymous Editors
Although we'd love to know who you are and interact with you, you are welcome to make changes without signing in. If you do, please make sure to maintain the [[Rules for This Wikia|rules]] of the wikia and the styles of the page structures. If you are unsure of these, just look at a few of the pages of the same type as you are editing and try to follow suit. There are also layout pages for some of the page types and eventually there will be more layout pages. In addition there are rules to help keep things orderly.
All Editors
This wiki is still in the stage where page styles are being experimented with, to see what works best. If you have a suggestion to make the pages even better, please either make a comment on the layout page, if there is one, or the message page of a staff member. (More...)
Images
Comics, as you no doubt know, are a very visual medium. This is why the images from the comics must be limited. (More...)
Article of the Month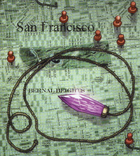 Scrying crystals are used by witches to locate other witches, innocents in danger, and demons.
When they learned in No Rest for the Wicca that all of their innocents were in danger, it spured on a search in this issue to locate and protect their past innocents and charges. Piper was using a scrying crystal to try and locate their charges while Paige worked with Henry to look through police files to see if they can find anyone. Once they had found what they could from Henry, Paige returned and they used a scrying crystal to locate Tyler Michaels.
Piper uses the scrying crystal to try and locate Leo while he is being held by Rennek. The first time she tries, like the rest of her powers, it doesn't work properly. It just goes round and round without ever landing anywhere. Presumably once Prue has stripped her powers, restoring Piper and Phoebe's ability to use their powers, Piper once more does some scrying, which is how she is able to locate Leo.
Comic Original Character of the Month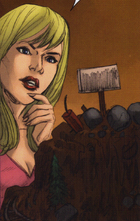 Bree is the daughter of Senator Holcombe. She is also the wife of Mitchell Coopersmith, a distant relative of Coop's.
Bree told her fiance, Mitchell, that he was forbidden from having a cake shaped like the Old Coopersmith Mine at their wedding. When he decided to have one made for their rehearsal dinner, she found that an acceptable alternative. She agreed that the cake was ugly, but said that if it was important to Mitchell, she loved it.
Later at their wedding, Bree was confused with the turmoil going on with Mitchell and his family. She ran out in tears, but was convinced to return when Coop had a pep talk with her and used his cupid magic on her. Coop figured it was okay to use his magic on Bree even after learning he shouldn't have used it on Mitchell since Bree wasn't actually part of the family yet.
She went back to see Mitchell and they agreed that despite everything that happened they wanted to be married and proceeded with their wedding.
Creative Team Member of the Month
David Seidman is the main cover artist for the Charmed comics. He is also co-credit with Dave Hoover for the interior art of one issue.
He is one of the few people to have worked on every issue in some form or another. Paul Ruditis is the only other one to have worked on all of the other issues, including The Sourcebook and Jim Campbell has worked on all of the storyline issues.
Cast Member of the Month

Sadie had the roll of Melinda Warren's mother Charlotte Warren in the season 3 episode All Halliwell's Eve. Her character was kidnapped by Ruth Cobb in order to try and control Charlotte's daughter, Melinda, when she was born.
Recent Uploads
Quote of the Month
"Historically speaking, women don't have the best track record taking apples from strangers. Look at Snow White."
Issue of the Month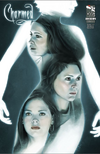 Magic gangs fight for control against government forces seriously out of their depth. Even with Piper, Phoebe, and Paige on the case, there is little they can do without their own magic. Overwhelmed and outnumbered, the side of good must hang all their hope on the single most powerful witch in the world.
TV Series Character of the Month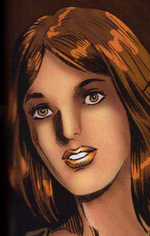 Charlotte Warren was the non magical mother of Melinda Warren.
Shortly before her daughter's birth, she was taken captive by Ruth Cobb who wanted to raise her daughter evil. Eva and her coven used the magic of All Hallow's Eve to summon the greatest witches of all times, Prue, Piper, and Phoebe Halliwell. Though the three at first had no idea what to do without their active powers, with some help from Eva, they were able to learn what to do and rescued both Charlotte and Melinda.
Desperate when she finds herself alone and pregnant, Charlotte goes to Isabel, a woman believed to be a witch, for help. She tells her that somehow she knows that her fiance and lover, Lawrence Cutler, will not be returning. Instead of helping her get rid of her child as Charlotte believed she would, Isabel sent Charlotte to Virginia and to help. This help is believed to be Eva. Isabel sent with her a pendant that was shaped like a triquetra.
Video of the Month
Poll of the Month
Last time 9 voted, 67% of you say that David Seidman was responsible for your favorite cover.
it: