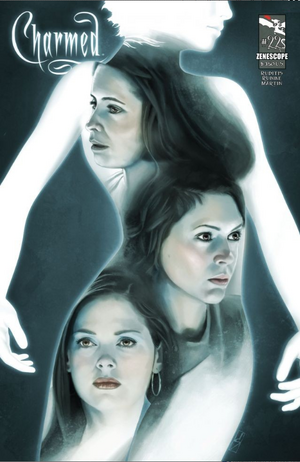 Prue Ya Gonna Call?
Publication Details
Series Title:
Charmed
Story Arc Title:
Season 9
Release Date:
July 11, 2012
Released Price:
$3.50
Digital Release Date:
June 20, 2012
Digital Release Price:
$3.99
Issue #:
22
Series Volume #:
4
Story Arc Issue #:
22
Story Arc Volume #:
4
Prue Ya Gonna Call? is issue 22. It is the third issue of volume 4.
Summary
Magic gangs fight for control against government forces seriously out of their depth. Even with Piper, Phoebe, and Paige on the case, there is little they can do without their own magic. Overwhelmed and outnumbered, the side of good must hang all their hope on the single most powerful witch in the world.
Person, Place, or Thing
Locations
Returning from the TV Series
Objects
Returning from the TV Series
Powers
Returning from the TV Series
After revealing the title of issue 21, Paul Ruditis says "Can't wait to tell you the title of #22 next month. My best bad pun ever! Seriously awful."
The title is based off of the Ghostbusters' question: "Who ya gonna call?"
In a teaserpalooza for Prue Ya Gonna Call? Paul Ruditis revealed the following information:

Charmed mini-excerpt:"Phoebe, for as long as the government needs me to coordinate with you, I am a real agent." Teaserpalooza starts now!
Those wondering what Cole's been up to will find out soon.
Charmed mini-excerpt: "Oh, come on. I'm not that powerful."
A couple characters I created for the comics will be returning in upcoming issues.
One of those characters may be appearing in non-corporeal form.
Charmed mini-excerpt: "Nobody's going to yell at you."
Charmed mini-excerpt: "Like hell I'm not."
One more character from the Charmed TV show will pop up in season 9, but only as a VERY BRIEF cameo in a flashback.
That's it for teaserpalooza. Hopefully Zenescope will have an update on #22 release date soon. Pretty sure it's gone to press. Until then I leave...
A blog post on my favorite part of writing for witches.

The digital copy and the print copy came out in different months, but the issue lists the digital copy month as the first printing.
There is a pull-out poster for the cover of this issue that can be found inside "Wonderland #2" another comic put out by Zenescope.

On page 13 there's a picture of a book with a sword. The text is actually a basic prayer of the Greek Orthodox Church and reads as follows: «Πάτερ ημών ο εν τοις ουρανοίς, αγιασθήτω το όνομά Σου, 'ελθέτω η Βασιλεία σου, 'γενηθήτω το θέλημά σου 'ως εν ουρανώ και επί της γης. 'Τον άρτον ημών τον επιούσιον δος ημίν σήμερον, 'και άφες ημίν τα οφειλήματα ημών, 'ως και ημείς αφίεμεν τοις οφειλέταις ημών. 'Και μη εισενέγκης ημάς εις πειρασμόν, 'αλλά ρύσαι ημάς από του πονηρού. 'Ότι σου εστίν η βασιλεία και η δύναμις και η δόξα εις τους αιώνας 'Αμήν»
Community content is available under
CC-BY-SA
unless otherwise noted.