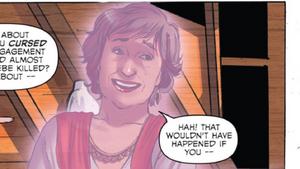 Penny Halliwell
Personal Info
Full Name:
Penelope Halliwell
Maiden Name:
Penelope Johnson
Nickname:
Penny, Grams
Vital Statistics
Species:
Witch
Powers:
Telekinesis
Family
Parents:
P. Baxter
Gordan Johnson
Spouse:
Jack Allen Halliwell ↑
Sibling(s):
Gordan Johnson II
Kid(s):
Patty Halliwell
Additional Information
Number of Issues:
5
Grams is the grandmother of the Charmed Ones. She died shortly before the original three sisters found out they were Charmed.
Bio
The only daughter of P. Baxter and Gordan Johnson, Penelope "Penny" Johnson is the grandmother of the Charmed Ones. After the death of her daughter, Patty, she scared off Patty's ex-husband, Victor Bennett, and raised her oldest three granddaughters, Prue, Piper, and Phoebe by herself. She had nothing to do with her youngest granddaughter, Paige Matthews upbringing, but she did know that she existed and helped Patty and Sam hide her existence.
She died in 1998, which allowed the girls to get back their powers that she had bound. Despite being dead, she showed up on occasion to flip pages in the Book of Shadows, to help lead wiccanings, and sometimes just to offer advice.
In the Comics
Edit
Year One:
Grams' death is mentioned.
In Unnatural Resources, she showed up to meet her youngest great-granddaughter and namesake, Prudence Johnna Halliwell. She then proceeded to give her the nickname of PJ, which distressed Phoebe a little, because she figured it would stick.
When Kyle Brody brought Paige's spirit to her and Patty for help in Last Witch Effort, she helped gather the Warren witches together to return Paige where she belonged and help defeat Neena.
In The Charmed Offensive, she was one of those who helped casted the binding spell on Neena.
"That was a nice break from the norm. Glad to see I still have some fight in me." - The Charmed Offensive
She hasn't said anything as her only appearance in this volume was a flashback.
Community content is available under
CC-BY-SA
unless otherwise noted.