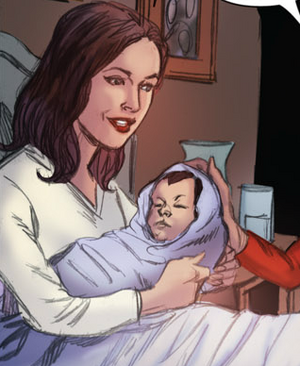 Parker Halliwell
Personal Info
Full Name:
Parker Halliwell
Vital Statistics
Status:
Alive
Born:
The Old Witcheroo
Age as of Current Issue:
16 months
Gender:
Female
Species:
Human
Race:
Witch
Hair Color:
Brown
Additional Information
Number of Issues:
3
Parker Halliwell is Phoebe and Coop's second child. She was born in The Old Witcheroo.
On the Show
Edit
Since their second child was seen in "Forever Charmed" it is assumed that this is the same child, a second daughter. The first initial is also assumed since Phoebe told Prue that she had decided to continue the tradition of using the letter "P" to start names.
In the Comics
Edit
Cole told his ex-wife, Phoebe, that she and her new husband were expecting their second child.
Phoebe told Paige that her baby protested Paige's use of magic on the Mercers, but Paige decided that was just gas since Phoebe was only three months along.
Parker is born in the manor like her mother and cousin, Wyatt, before her. The world in which she is born is quite different from the one the rest of her family was used to.
Phoebe carries Parker from the manor to an alley where they get trapped by warring magical factions. Coop finds themmm and carries Parker the rest of the way to their destination, Knox Academy. Once there she is handed off to Elise who her parents trust to get Parker to safety. Parker is three weeks old.
Season 10
Edit
Coop changes Parker's diaper while Leo talks to Piper on the phone.
She hasn't said anything.
Pat Shand said that Parker was about one at the time of Charmed Assault.
Community content is available under
CC-BY-SA
unless otherwise noted.