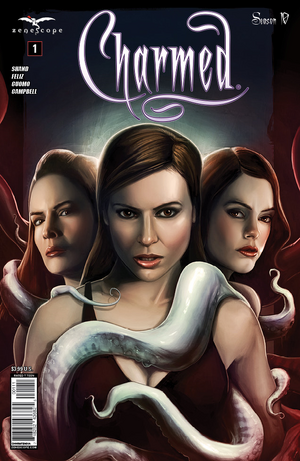 No Country for Old Ones
Publication Details
Series Title:
Charmed
Story Arc Title:
Season 10
Release Date:
October 8, 2014
Released Price:
$3.99
Issue #:
25
Series Volume #:
5
Story Arc Issue #:
1
Story Arc Volume #:
1
No Country for Old Ones is issue 25. It is part of Volume 5 and the season ten premier. It also marks Pat Shand's debut as a writer for Charmed.
Summary
The girls are BACK!
The ultra-popular Charmed Universe lives on in Zenescope's new season of the HIT comic book series. Piper, Prue and Paige return in Season 10 with all new twists, turns, drama, and fun that CHARMED fans have come to love.
THE WAIT... IS OVER!
The Power of Three finally returns in Zenescope's official continuation of CHARMED! When an ancient evil older than time itself targets the Charmed Ones, they will have to call on help from the magical community... including their estranged sister Prue and the former demon Cole... for help. But will it be enough when an Old One sets its sights on the Halliwells?
An all new epic storyline begins, written by Pat Shand (Robyn Hood, Grimm Fairy Tales) and up-and-coming artist Elisa Féliz, edited by Charmed fan favorite Paul Ruditis!
Person, Place, or Thing
Locations
Returning from the TV Series
Objects
Returning from the TV Series
Powers
Returning from the TV Series
Community content is available under
CC-BY-SA
unless otherwise noted.