Charmed Object
Grandfather Clock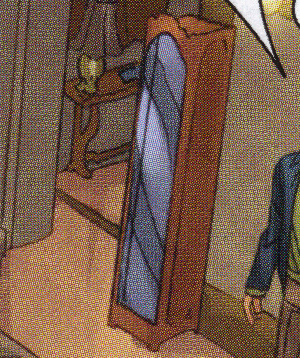 Item Statistics
Alignment:
Nuetral
Used By:
Halliwells
Additional Info
Significant Use:
Broken and repaired many times
Number of Issues:
4
The grandfather clock in the manor has been broken so many times in demon attacks that it became a joke among the characters, the cast, and the fans.
On the Show
Edit
The grandfather clock getting broken was one of the constants on the show and must have cost them a fortune.
In the Comics
Edit
Leo
is telling
Paige
and
Phoebe
who
Neena
is.
The clock can be seen near Henry and Victor when Victor first arrives in the manor.
Where There's Smoke There's a Firestarter
The clock can be seen in the background while Phoebe and Piper are talking on the couch and Paige is talking to Henry on the phone about their house.
The grandfather clock slammed to the floor during the mess with the sisters' powers. The glass shattered and at least some of the wood broke as well. This marks the first time it was broken during the Charmed comics, even if it was not broken in a demon attack.
Community content is available under
CC-BY-SA
unless otherwise noted.