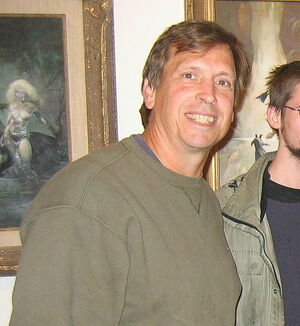 Creator Details
Personal Details
Full Name:
David Hoover
Nickname(s):
Dave Hoover
Worked On:
Interior Pencils
Series Worked On:
Season 9

Website(s):
deviantART
Worked On Numbers
Interiors Penciled:
4.05
Dave Hoover was the original artist for the Charmed comics. He drew 4 issues. He stopped drawing for the comics stating he hadn't been paid for his work and could not come to an agreement with Zenescope.
One of his pages from No Rest for the Wicca was reused as the first page of The Old Witcheroo
Bio
He was born on May 14, 1955. On September 5, 2011 he died at only the age of fifty-six.
Interiors
Other Works
Grimm Fairy Tales 31
Grimm Fairy Tales 32
Links
Audition Pages
Edit
Other Charmed Art
Edit
Other Art
Edit