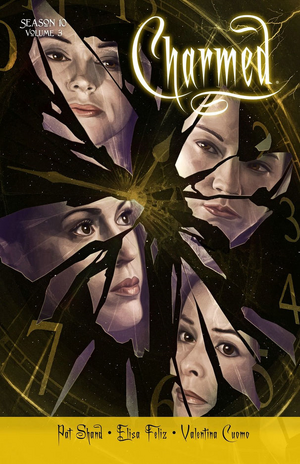 Comic Details
Publication Details
Release Date:
April 6, 2016
This is the seventh collected volume of Charmed comics. It contains issues 13-17 of the tenth season which were published between November 2015 and April 2016.
Summary
Charmed Season Ten continues! Together, the Halliwell sisters have access to the greatest source of pure magic the world has known: the Power of Three. But now that their eldest sister Prue has been resurrected, a strange magic threatens to tear them apart.
The Charmed Ones race to find a way to protect their family from Prue's powers without killing their troubled sister. However, as they prepare to do a dangerous spell, the shape-shifting Big Bad that has seized control of one of their own is setting its plan in motion.
Person, Place, or Thing
Characters
Edit
Returning Characters
Edit
Characters Returning from the TV Series
Edit
New Characters
Edit
Seen In Flashback OnlyEdit
Mentioned But Not SeenEdit
Completed Issue Covers
Edit
Community content is available under
CC-BY-SA
unless otherwise noted.