Alyssa Milano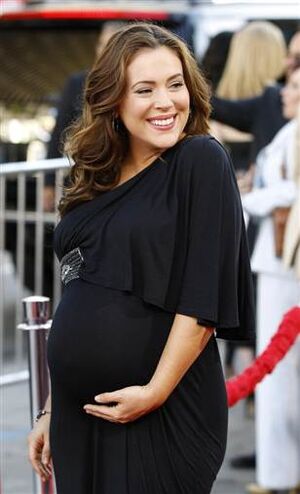 Alyssa and Her First Child
Vital Statistics
Status:
Alive
Gender:
Female
Hair Color:
Brown
Eye Color:
Brown
Family
Spouse:
David Bugliari
Kid(s):
Milo Thomas Bugliari
On Charmed
Seasons:
8
Episodes:
All
First Episode:
Something Wicca This Way Comes
Last Episode:
Forever Charmed
Number of Issues:
24
Alyssa Milano was the face behind the fun loving baby sister of the Charmed Ones, Phoebe Halliwell.
She is married to David Bugliari. They have one son, Milo Thomas Bugliari, born August 31, 2011.
TV Series
Edit
Charmed (Phoebe Halliwell; 178 Episodes; 1998-2006)
Castle (Kyra Blaine; 1 Episode; 2010)
Living Dolls (Samantha Micelli; 2 Episodes; 1989)
Melrose Place (Jennifer Mancini; 40 Episodes; 1997-1998)
My Name Is Earl (Billie Cunningham; 10 Episodes; 2007-2008)
Romantically Challenged (Rebecca Thomas; 6 Episodes; 2010-2011)
Spin City (Meg Winston; 2 Episodes; 1997-2001)
Who's the Boss? (Samantha Micelli; 196 Episodes; 1984-1992)
Below Utopia (Susanne; 1997)
Canterville Ghost, The (Jennifer Canterville; 1987)
Commando (Jenny Matrix; 1985)
Dance 'Til Dawn (Shelley Sheridan; 1988)
Dickie Roberts: Former Child Star (Cyndi; 2003)
Goldrush: A Real Life Alaskan Adventure (Frances Ella "Fizzy" Fitz; 1998)
Hall Pass (Mandy; 2011)
Lady and the Tramp II: Scamp's Adventure (Angel; 2001)
My Girlfriend's Boyfriend (Jesse Young; 2010)
Sundays at Tiffany's (Jane Claremont; 2010)
About the Charmed Comics
Edit
"Speaking of comic books, I have confirmed that there is a Charmed comic book in the works: http://bit.ly/8dSXyY" - Posted on twitter
About Charmed
Edit
"Every time I decide I want a child I get another pet. I have 3 dogs, 13 birds, and 3 horses. What does that tell you?"
In a Role
Edit
Red Carpet
Edit